Hearing Aids
Exceptional Technology, Extraordinary Care
Is It Time for Hearing Aids?
Hearing loss is a sudden or gradual decrease in how well you can hear. It is one of the most common conditions affecting older and elderly adults. Having trouble hearing can make it hard to understand and follow a doctor's advice, to respond to warnings, and to hear doorbells and alarms. It can also make it hard to enjoy talking with friends and family. All of this can be frustrating, embarrassing, and even dangerous.
Do others complain the TV is too loud?
Do you have trouble hearing in a noisy room?
Do you have more trouble hearing women than men?
Do you ask others to repeat themselves?
Do you avoid going out because you'll struggle to hear?
Do you notice any ringing or buzzing sounds in either ear?
Brands We Carry
We carry all major manufacturers including:
Starkey Hearing Aids
Whatever your degree of hearing loss Starkey has the right hearing aid for you regardless of your type of hearing loss, your lifestyle, your personal preferences, your age or your budget. 
Widex Hearing Aids
Our approach to innovation has led to such advances as the world's first digital in-the-ear hearing aid, as well as our own revolutionary wireless technology.
Oticon Hearing Aids
People First is a promise: Everything we do always begins with the people we are doing it for. We are not simply trying to help you hear more, but to live more.
Help in Making a Decision
Addressing hearing loss is a rehabilitative process. It is important to understand that in most cases, a person won't be able to purchase a piece of technology and have all their issues resolved in a day.
When a person needs hearing aids, they typically have not been hearing normally for some time, maybe even decades. Our doctors have the experience and patience needed to take patients through the adjustment process on a case-by-case basis, ensuring that our patients have the right technology, counseling tools and assistive devices needed to meet their needs.
We help create a communication needs treatment plan based on evidence. We use specialized testing to help us understand what situations you have difficulty in, how much it affects your daily activities and your cognitive abilities to help us determine your best next steps.
Risk Free 45 Day Trial
A risk-free 45 day trial period is given with every hearing aid purchase to ensure that you are completely satisfied with your hearing device.
Technology Demonstration
A technology demonstration is available. Our clinic is designed to test hearing in typical troublesome situations like the TV, over the phone and with background noise.
Warranties
Our hearing aids come with a 3 year repair warranty, a 3 year total loss warranty and the option to add our TLC (Total Listening Care) service warranty.
REPAIRS
We service and repair all makes and models of hearing aids, including Phonak, Unitron, ReSound, and Signia/Siemens.
Hearing Aid Financing Available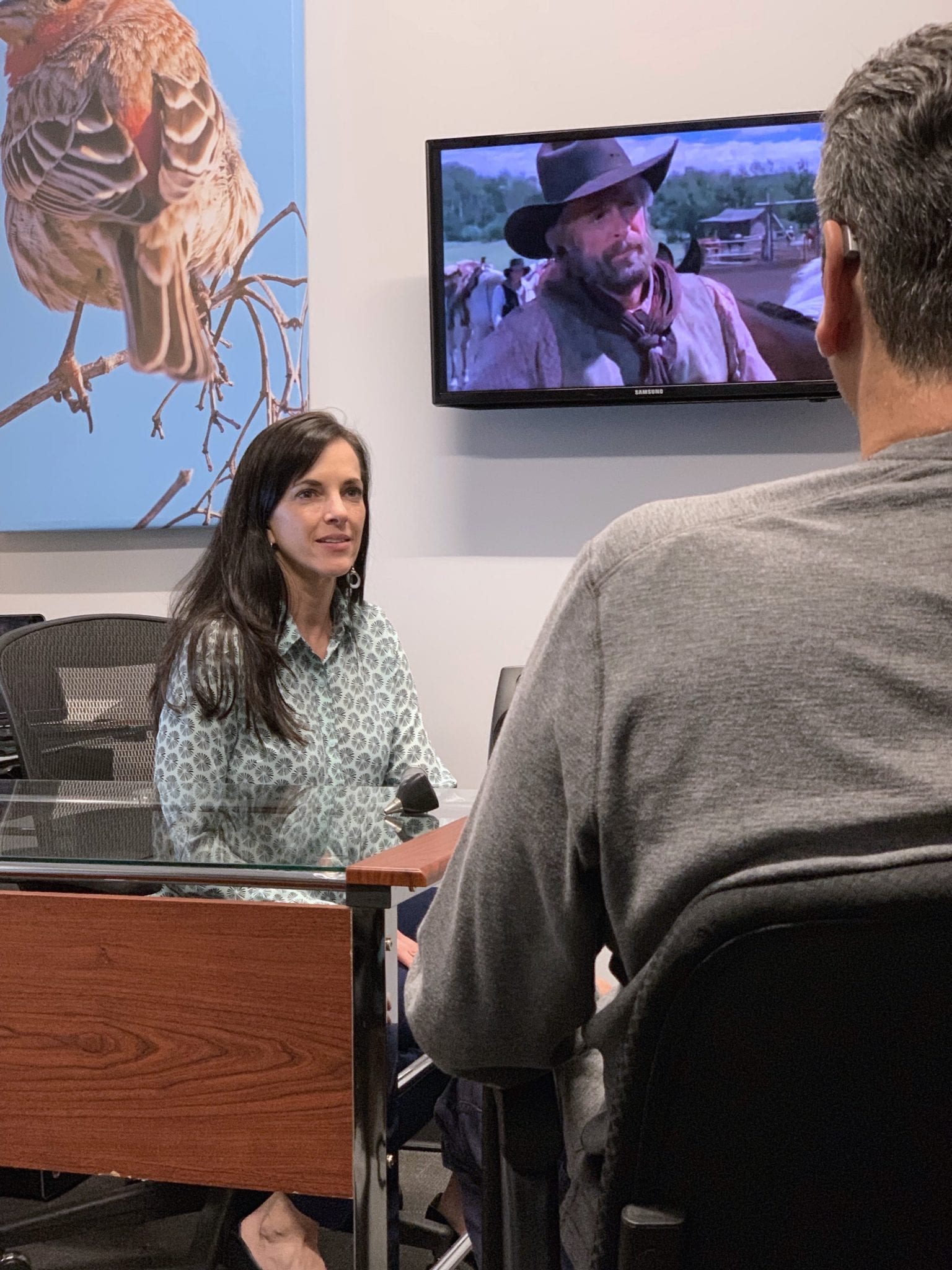 We offer Care Credit, a financing option to help you afford hearing aids so you can hear life to the fullest. Whether it is a new hearing device or an upgrade, you shouldn't have to worry about how to get the optimal devices that fit your hearing needs. That is why we are pleased to accept the CareCredit health, wellness and beauty credit card. CareCredit lets you say "Yes" to recommended hearing devices, and pay for them in convenient monthly payments that fit your financial situation.
Follow Up & Care
Our exceptional, friendly staff is one of our greatest assets, and we are proud of their long time association with our office. Patients tell us often how well we work together as a team.
We pride ourselves on their commitment to bring elite care to our patients.  Read our reviews and you will find that patients often comment on compassion and effort to make the experience exceptional.
Are there different styles of hearing aids?
The three main styles of hearing aids are behind-the-ear, in-the-ear and in-the-canal.  The style choice depends on many factors.  The final decision will be made based on the degree of your hearing loss, your listening needs, your physical limitations (if any) and your personal preference.
Do I need one or two hearing aids?
99% of patients with a hearing loss in both ears will need a hearing aid for both ears.  There are some exceptions to this, and your hearing healthcare professional will discuss those with you.
What should be considered when choosing hearing aids?
There are any number of factors that should be considered when choosing a hearing aid including:
Lifestyle
The degree of hearing loss
Listening needs
Budget
Physical abilities
Sense of style
Why we work with more than one hearing aid company.
We believe in only providing only the highest quality products available on the market today. Technology is evolving at a rapid pace.  One vendor partner will often introduce new technology that outperforms another vendor partner for a specific listening need. Working with multiple vendors affords us the opportunity to provide our patients with the best solution for their particular listening needs.
Get in Touch
Ask a question or schedule an appointment below.
4195 Centennial Blvd Colorado Springs, CO 80907