Patient Resources
Everything you need, all in one place.
For Your Next Appointment
Confirm Your Appointment
Our office will contact you the day prior to your appointment to confirm the appointment time.
Print & Bring Your Forms
If you do print your forms ahead of time, remember to bring them with you.
Office Hours
M-W:  8AM – 5PM
Th:  8AM – 6PM
F:  8AM – 4PM
Don't Forget Your ID & Insurance Card
We are required to obtain copies of an acceptable form of ID and your insurance card.
Don't Stress!
Leave your worries behind, we promise to make this visit as stress free as possible.
Location
4195 Centennial Blvd.
Colorado Springs CO 80907
Hearing Aid Brands We Carry
Widex
Oticon
Starkey
Signia
Phonak
Unitron
GN Resound
Insurance We Accept
Medicare
Tricare
United Health Care
Cigna
Aetna
Blue Cross/Blue Shield
UMR
Professional Affiliations
American Academy of Audiology
Academy of Doctors of Audiology
Colorado Academy of Audiology
Tinnitus Practitioners of American
American Tinnitus Association
Hearing Loss Association of America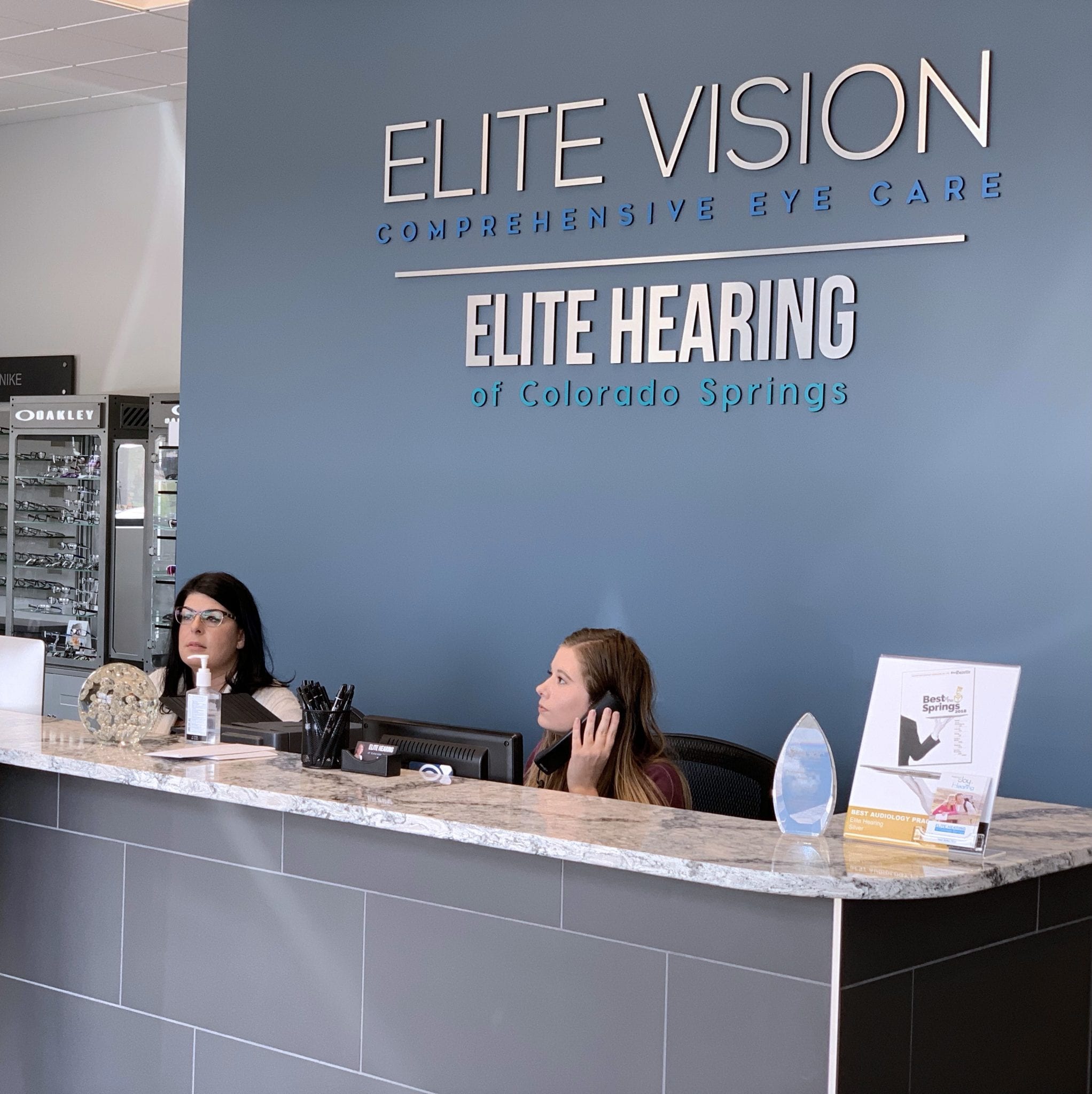 Financial Resources
Paying for hearing aids can be a heavy financial burden for those with limited or fixed incomes. We proudly offer a range of hearing aid technologies to fit most budgets. If the costs of hearing loss treatment are still outside of your budget, we are still here to help. Please check out the following hearing aid funding resources for adults which ELITE HEARING is partnered with to ensure everyone has access to quality hearing healthcare.
HEARS
ELITE HEARING has been a proud partner of the non-profit HEARS group for years. HEARS provides new hearing aids and our Audiologists volunteer services to test and fit El Paso residents in financial need. For more information or to apply please visit hearscosp.weebly.com
Vocational Rehab
Working individuals or those actively seeking employment can apply for assistance with hearing aid purchases as well as other care to ensure employment. This is a state and federally funded program designed to help eligible individuals with disabilities find and maintain suitable employment. For more information and to apply, go to DVR.Colorado.Gov.
Hearing The Call
ELITE HEARING of Colorado Springs has partnered with this non-profit organization that provides hearing aids to income-qualified applicants. Hearing aids and 3 follow-up visits are paid for by Hearing the Call and our Audiologists volunteer their time. We then offer a lifetime of budget friendly follow-up appointments at only $15/visit. For more information and to apply, go to HearingTheCall.org/Colorado.
Can you self-refer to an audiologist?
You can self-refer to an audiologist if you are ready to pay for audiology treatments out of pocket. If you self-refer, there is no need to contact a doctor. Often, you must first obtain a doctor's referral before you may use your insurance for testing and other related fees.
Do you need a doctor's referral for a hearing test?
You can choose to have your hearing evaluated without a recommendation from your doctor. Most insurance companies, including Medicare, will allow you to bill insurance for hearing tests without a referral for diagnostic purposes. You should get a referral from a doctor if you are obtaining a hearing evaluation due to vertigo or sudden hearing loss.
How do you select the best hearing aid?
We suggest you start by selecting a hearing healthcare expert you trust to guide you through the process.  Our Doctors of Audiology use evidence-based practice with standard hearing tests, plus specialized testing for hearing in noise and cognitive testing to help make the best recommendation for your needs.  Hearing aids are available in different sizes, models, levels of technology and designs. When choosing a hearing aid, the first thing you need to consider is the type and degree of hearing loss you have.
How do you get rid of tinnitus sounds?
Tinnitus is usually most noticeable in quiet settings. Over 50 million Americans report some degree of tinnitus. To most, it is non-bothersome. Although there is no cure, MOST of the time, certain types of tinnitus can be mitigated by treating the underlying solution. If you have tinnitus, you should have a diagnostic hearing evaluation to ensure it is benign. To combat bothersome tinnitus, a white noise machine, soft music or low-volume radio static may be used to mask the tinnitus noise. Tinnitus with hearing loss may be managed with hearing aids that have built-in tinnitus maskers. Tinnitus is often negatively impacted by stress. Use stress reducing activities to help reduce the negative effects of tinnitus.
Is a hearing aid specialist or hearing aid dispenser the same as an audiologist?
It can be easy to become confused about which type of expert you are visiting. There are, however, some significant variations between the education level and what these three professions can achieve for you. A hearing aid expert can test your hearing and equip you with a hearing aid. A hearing aid dispenser does training to work with hearing equipment and state depending, will get hours working under a qualified Audiologist in order to apply for their license. An audiologist, on the other hand, must get both an undergraduate and doctoral degree in audiology. They have an extensive supervised externship before the professional may test for their national certification and state licensing. Audiologists are more specialized. Therefore, they can evaluate and diagnose a broader spectrum of hearing, tinnitus, and balance issues.
ELITE HEARING of Colorado Springs offers a wide range of hearing aid options from all the top brands, fitting all budgets. We offer a choice between the convenience of rechargeable hearing devices or the tried-and-true battery operated option.  If you choose standard batteries, join our Battery Club to help reduce the costs of purchasing hearing aid batteries.
In addition, our office the flexibility of lowering your initial cost with our pay as you go program for additional office visits. Or bundle your services with our worry-free Total Listening Care Service package. With TLC, your hearing aids are adjusted to your preference and maintained free of charge for 4 3 years!
Falls are a major concern for older adults, as they can lead to serious injuries, loss of independence, and even death. One factor that may increase the risk of falling is hearing loss. Studies have shown that people with hearing loss are more likely to fall than...
Elite Vision
Elite Vision is conveniently located within the same facility as Elite Hearing.  Our patients love the convenience of having their hearing and vision needs met in one location.  
Dr. Leroy Popowski, Doctor of Optometry and owner of ELITE VISION, is an early adopter of the latest technological innovations advances in eye care and enjoys implementing the most advanced instrumentation into patient care to provide his patients with the highest level of care. He is dedicated to ensuring that his patients receive the best care available and are informed of the latest ophthalmic products on the market to result in the prevention of vision loss due to pathology, and optimization of vision through advanced ophthalmic and therapeutic products. ELITE VISION is the standard of excellence in eye healthcare and designer eyewear in Colorado Springs.
Get in Touch
Ask a question or schedule an appointment below.
4195 Centennial Blvd Colorado Springs, CO 80907